Tour Dates and a couple of dropped hints
The National Pep World Tour Of The North is starting in February. Dates so far confirmed are:
Feb 16 - Leeds HMV Showcase gig, Joseph's Well. Doors 7:30PM, tel 0113 2031860. Tickets £4
Mar 22 - Liverpool The Cavern Club. Price and time tba.
Further dates in Leeds, Bradford, Liverpool, Manchester and London to be announced shortly.
In other news, Tilt and Olsen may be producing the debut EP for a Manchester band, and we may have a very special guest on the second EP, which will be recorded in February. More on this as it happens.
Meet Citizen Gomez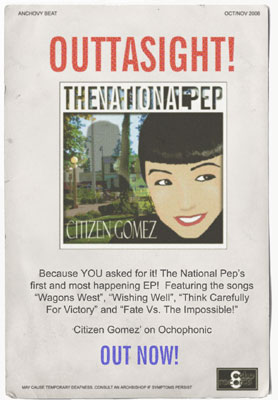 Our first studio EP, Citizen Gomez will be coming out in November. Crammed full of exuberant pop melodies and relentless cultural references backed by vibraphone and organ. If Syd Barret was in Queen, if Smiley Smile rather than Pepper had revolutionised music, if Ogden Nash had written lyrics for the Lovin' Spoonful, these are things you can think about when you listen to the National Pep's Citizen Gomez.

The EP consists of four songs:

Think Carefully For Victory - A very electric pop-rock song (the only song on the EP that has prominent guitar), with a country-waltz chorus. This song is is currently on its fourth set of lyrics. When asked what the current set of lyrics were about, Tilt replied "Pay close attention to the lyrics. They contain the secrets of success. There's also some stuff in there explaining why I personally am not a success, but I have better things to do than take my own advice."

Wishing Well is a song. Olsen wrote it, and we've been unable to get a description out of him. It's a waltz.

Wagons West Olsen's had the tune for this for six years, and Tilt added words about an epiphany in a theme park and a case of mistaken nationality at a party.

Fate Vs. The Impossible! - the newest song on the EP and, like Wishing Well, one that will only be on the EP. Tilt takes lead on a "condensed opera" that is equal parts Man of La Mancha and How To Speak Hip, as performed by Queen and produced by Joe Meek. Or not.

The CD can be bought from CDBaby for $5, or ordered from all good retailers.